All texts exist to be read by someone. Who's reading yours?
Every text you write is a dialogue, between you the writer and some future reader. Every single one.
The note with a to-do list: you're the writer, and your future self is the reader.
Your social media posts: between you and your followers.
And your book draft? Well, your eventual reader.
But when you're beginning your draft, or in the midst of rewriting, that eventual reader can seem a million miles away and you lose sight of them. You risk your writing being unfocused, losing your way. Perhaps you're trying to win all the readers or perhaps you have no one in particular in mind but either way you need to know that you're not shouting into the void. You are in a conversation – separated by time and distance, yes, but still a conversation. So you need to figure out who your conversation partner is in order to aim your textual arrows. I mean, you wouldn't talk to the King the way you talk to your brother, would you?
So what do you do if you can't figure out your conversational partner?
Write for yourself
This is a popular piece of writing advice: think of your shadow self. Write the book you'd like to read.
'The first person you should think of pleasing, in writing a book, is yourself.'

Patricia Highsmith (Plotting and Writing Suspense Fiction)
This is no different if you write non-fiction. Advice and instruction books are written to a version of you that hasn't yet learned what you can teach. A local history book is written for someone interested in your area. A memoir is a letter to yourself looking back at your experiences and making sense of them.
Audience identification
If you ask a random group of readers what they love most about their favourite books, it will often come down to 'I identified with the main character'. Usually this is more to do with their internal journey than their actual circumstances: not many readers are FBI agents dealing with a cannibal serial killer, but lots will have experienced struggling to make a mark in a new job.
'Stories invite us to invest part of our personal identity in the Hero for the duration of the experience. In a sense we become the Hero for a while.'

Christopher Vogler (The Writer's Journey)
That's the reader's experience; it's probably been your own experience. So when you're writing your own book, hold on to this feeling: the partner in your literary conversation is a reader imagining themselves as the Hero in your book.
Communicating conversationally
Visualising your reader – that one single reader to whom you are directing your words – helps with your clarity, too. Writing should not just be about showing off all the fancy words you've learned. You need to be considering whether you are communicating clearly with your reader. Sometimes only the fancy words will do… but make sure this is definitely the case.
In a conversation, your words are worth nothing if the meaning is not clear and understandable. And in a written conversation, you don't have the luxury of instantly clearing up a misunderstanding. You have the pressure of communicating clearly while limiting the possibility of being misinterpreted. You can only do this if, when you are writing, you put yourself in the position of the reader. This should be easier now that you know who they are!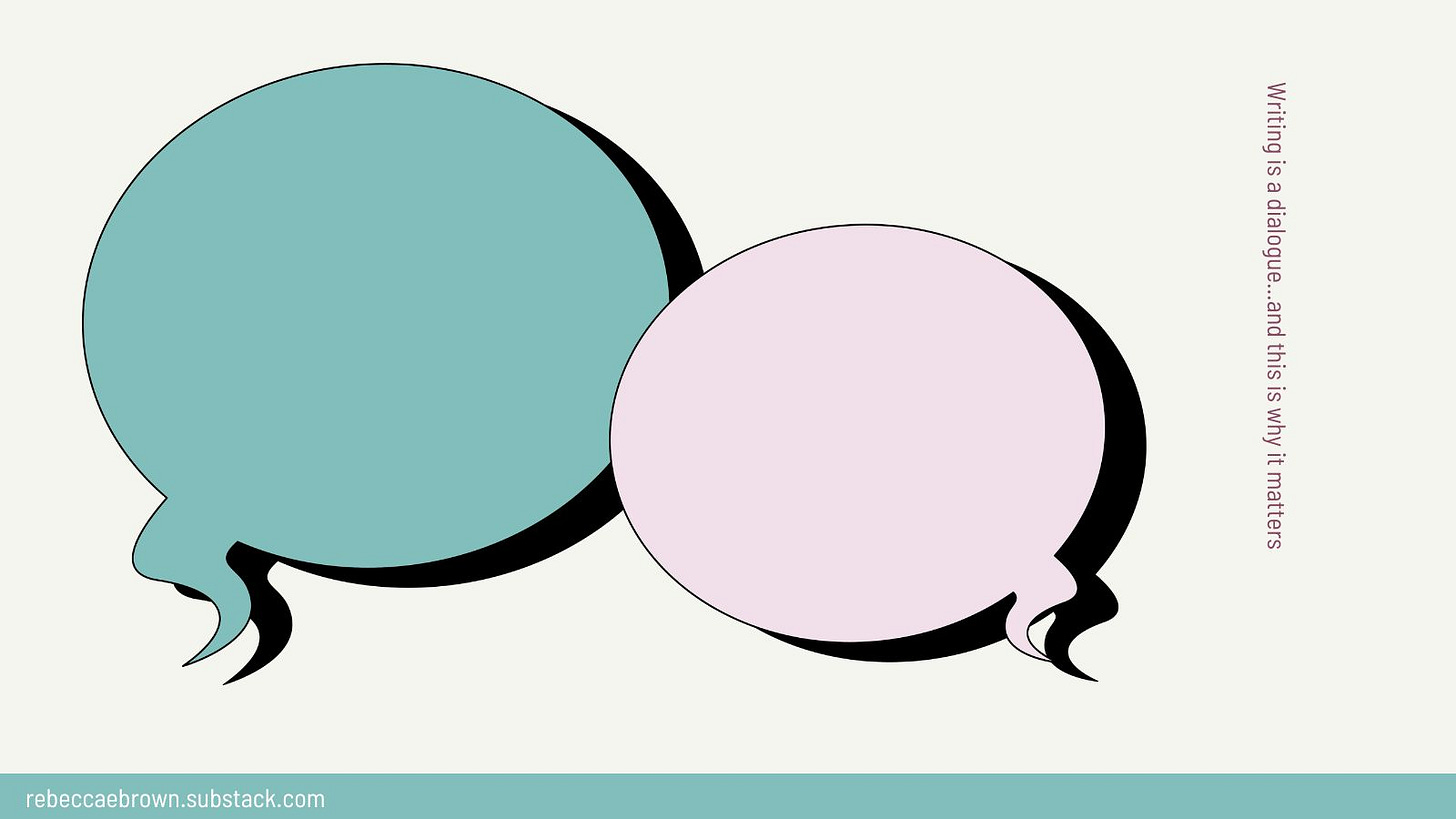 Final note
You know now that your text is a dialogue.
But note that every text is experienced by one reader at a time; individually, never as a collective. It's a one-to-one dialogue, not a mass lecture (and even a mass lecture is heard by individuals with their own understanding and context). No one experiences the same book, tweet or YouTube video in the exact same way, so don't waste your time and energy trying to write for the masses. You may have one follower or ten thousand but they are each an individual reader.
However you pick your reader – yourself, your shadow self, an imagined ideal reader, the Big Name Author you dream of reviewing your book, a learner a few steps behind – that one reader is who you hold in your mind. Try to please everybody, and you'll risk pleasing nobody. Worse: you risk sounding generic and inauthentic.
The joy of remembering that text is a conversation is that you can allow yourself to be natural and let your own voice shine through. Take advantage of that freedom and enjoy the opportunity to put yourself out there.
You will inspire further dialogue in turn as your readers talk about your book, write reviews, or create fanfiction.
Creating conversation
Homework: identify a conversational partner on the other end of your communication when you write.
Practise: hop on to Twitter and seek out people you'd like to engage with. Reply to them – short form, written dialogue.
Check your writing – is it clear, and does it communicate what you intended?
You can find a few more ideas at this short post.
---
Quick link
Today's quick link is just for fun! Because who doesn't need cake after a focused writing session?
When your kitchen is cake:
Jonny Manganello on Instagram: "What's ya fave kitchen cake? .
---
What stage are you at in your book journey? Check out my Services page if you're wondering what to do next or email if you'd like some conversation about your writing!
---